How to Produce Music Like: Flying Lotus
Flying Lotus beats tend to sound the way Picasso paintings look: They're alluring and fascinating, yet something seems a little "off" about them. They might be a distorted representation of something familiar — like the jazzy hip-hop cuts from his most recent record "You're Dead" — or an abstract and highly unique creation all their own — like the thumpy, glitchy sounds of 2012's "Until the Quiet Comes."
No matter how you interpret Flying Lotus' music, you can't deny that he knows how to keep your head nodding throughout the onslaught of weirdness. The Los Angeles-based producer makes generous use of odd sound effects, crunchy textures, and meandering melodies, while always making sure the beat knocks and your attention stays fixed on every twist and turn.
Here are a few tips to bring a little Flying Lotus flavor to your tracks.

Turn off quantization on drums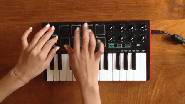 Most of Flying Lotus' drum beats are slightly off-time, meaning the kick, snare, and hi-hat hits arrive a tad early or late on the grid. Turn off the quantization feature on your sampler, drum machine, or DAW (digital audio workstation) in order to allow natural human error to come through in your performance. If you prefer to paint beats in with a mouse, try creating your beat as you normally would, then turning off the grid and dragging hits left or right to see how they change the groove. The goal is to find a feel that ebbs and flows with the rest of your song's rhythmic elements without sounding too "perfect."
Make friends with a great bass player.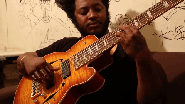 Many Flying Lotus tracks feature bass guitar played by his good friend Thundercat, a mind-bogglingly talented bassist who's had a long career backing up some of hip-hop's biggest names. Since Flying Lotus' music relies on having a tight, impactful rhythm section, Thundercat's bass lines set the foundation for every track he touches in a way that can't be replicated through mere MIDI instruments. Find a way to record live bass on your tracks — there's no substitute for human feel when it comes to your rhythm section, and since you can run an electric bass directly into most audio interfaces, it's not too challenging to get the real thing.
Hunt for Unusual Melodic Samples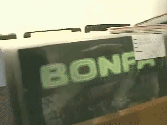 As always, you'll need a good ear to find useful melodic samples, but to recreate Flying Lotus' unconventional sound, try exploring away from your traditional jazz, soul, and funk categories. Dig into tunes from other parts of the world, go back in time to find forgotten gems, and look to unusual audio sources like video games or movie clips for sounds that pique your interest.
Layer on the Percussion.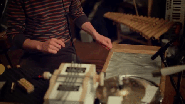 Flying Lotus is a master at using percussion to bring life and variation to his tracks. Whether it's a set of clangy chimes that ring out over the top of a beat, a steady stream of hissy shakers to pick up the energy, or a piercing woodblock hit to accentuate the snare, percussion loops and fills are a great way to keep your listeners guessing. For extra impact, spread your sounds out around the stereo field by carefully panning each element.
Create an Ambience of Gritty or Earthy Texture.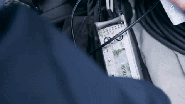 If you think of your melodic lines, vocals, and percussion pieces as the foreground of your track, remember to work on the background of your track as well. Beneath the loudest parts of most Flying Lotus tracks are various layers of texture — like vinyl crackle, crunching leaves, or white noise — that serve as a base to support the main pieces meant to cut through the mix. Consider purchasing a field recorder (or simply use the voice memo app on your smartphone) to capture ambient recordings of your own that can be incorporated under your songs.
Get Weird with Synth Leads.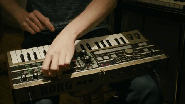 Flying Lotus makes frequent use of analog-style synth sounds in his tracks, usually as piercing leads that drive the song forward. In keeping with his practice of doing things his own way, Flying Lotus' synth tones tend to skew a bit extreme in one direction or another. Try detuning your sound more than usual, adding aggressive distortion, or experimenting with over-the-top modulation.
Boost the Kick with Sidechain Compression on Everything Else.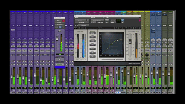 Sidechain compression can definitely be overused — especially in the genre of lo-fi or experimental hip-hop beats — but for Flying Lotus, it's a tasteful element that helps tie together his otherwise unruly rhythmic structures. Try sending all of your non-kick tracks to a bus channel where you can add a compressor sidechained to the kick. This will create the familiar "breathing" feel made popular by four-on-the-floor electronic music, but since you'll be triggering the compressor with an off-kilter Flying Lotus-style beat, you'll hear interesting rhythmic swells and accents.