Screenwriting: How to Write Tragedy (As Explained with Dog Day Afternoon)

Even if you don't know what tragedy exactly means, you still probably have a good idea of what it means. It is a narrative structure that is as old as ancient Greece, was most famously and effectively used by Shakespeare, and continues to be deployed as a dramatic device to this very day. The theorist Christopher Booker defines a tragedy as a story that "focuses on a villain protagonist, and the reader sees them delve further into darkness and evil before their ultimate death or destruction at the hands of the hero." Booker lists five stages in the tragedy narrative, which we will explore today by taking a look at a film that puts s unique spin on this structure, Sidney Lumet's 1975 masterpiece, Dog Day Afternoon.

Nov 16, 2017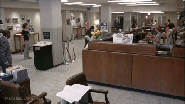 In this first stage, we see that our tragic hero is after something that they think is missing from their lives, usually money, love, or power, and they form a plan to attain it that sets everything into motion. Dog Day Afternoon begins with Sonny Wortzik (Al Pacino) and his accomplices Sal (John Cazale) and Stevie (Gary Springer) attempting to rob the First Brooklyn National Bank. Although we don't yet know Sonny's motivation for this crime, we can tell that he is driven by a purpose that he cares deeply about.
Nov 16, 2017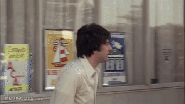 Soon, it becomes clear that the tragic hero is in a no-turning-back situation, which is only expounded when things inexplicably start to go well for them, filling them with hubris and leading them further down to the point of no return. Although Sonny at first encounters a number of setbacks (Stevie quickly bails on him, there is only $1,100 in the bank's safe, the cops and the FBI show up which turns the robbery into a hostage situation), he makes the most of the situation, chanting "Attica! Attica!" to get the crowd outside riled up. They think Sonny is some sort of Robin Hood folk hero, and he even gets interviewed on TV. Before long, Sonny begins to consider himself invincible.
Nov 16, 2017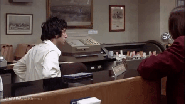 Before long, our tragic hero begins to stumble. Road blocks begin to pop up, and it soon becomes apparent to the audience that this story will only end badly for the protagonist. Despite his initial brush with folk hero status, the hostage situation drags on and on, and Sonny soon realizes that a simple getaway is impossible. So he demands that he and Sal be flown out of the country. When he asks the nervous Sal what other country they should go to, Sal earnestly replies, "Wyoming." At this point, both Sonny and the audience realize that these guys are in way over their heads, and are almost certainly doomed.
Nov 16, 2017
Now comes the darkness - the real tragedy sets in. The glimmer of hope that all might be restored to normal is fading for our protagonist. The tragic hero's plan is collapsing around him, and all he can do is wait in fear for his ultimate fate. As night falls, the FBI shuts off all of the lights in the bank and refuses to negotiate with Sonny any further. By now we have learned that Sonny robbed the bank in order to pay for a sex change for his transgender lover, Leon (Chris Sarandon). However, in a phone call between the two, Leon explains that she tried to kill herself to get away from Sonny, and does not want to join Sonny and Sal on their getaway plane. Heartbroken, Sonny dictates his last will and testament to one of the hostages, just in case he doesn't make it out alive.
Nov 16, 2017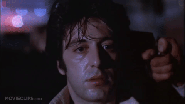 The other shoe finally drops, and our tragic hero falls. In the final scene of Dog Day Afternoon, the FBI escorts Sonny, Sal, and the hostages to Kennedy Airport in a passenger van. One of the hostages is freed, and Sonny absentmindedly asks if there will be food on the plane. Then, in a flash, an FBI agent shoots Sal in the head, all of the hostages escape, and Sonny is arrested. Our final glimpse of Sonny is that of a broken man: he didn't get the money, his lover left him, he got his best friend killed, and now he faces a 20-year jail sentence. Roll credits.