The Collision and Fusion of East and West: Hannah Lim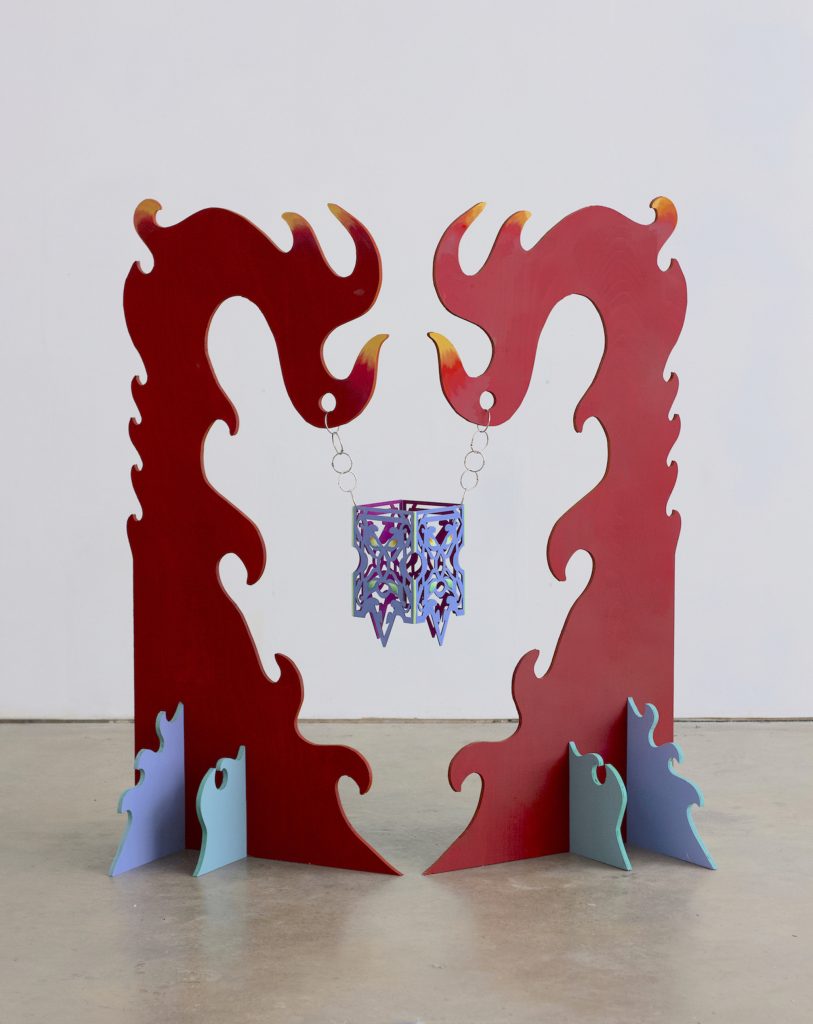 As a person of mixed Singaporean and British heritage, Hannah Lim creates furniture-like sculptures with a combination of both the East and the West elements in response to her cultural identity and experience. Forming the basis of Lim's inspiration is her interest in Orientalism, and its relationship to Chinoiserie. She found the pieces in such themes rather interesting. "There was this weird cultural connection and resemblance because they reflected a part of me", she told us.
She grew up in multicultural west London, which "kind of made you notice less that you were different", she explains. Even though she has never spent a significant amount of time in Singapore, Lim has always been interested in understanding that part of herself. When she came to study in Edinburgh, an environment quite different from the area where she was raised, "I think that feeling of difference made me want to look into my heritage even more than before."
Lim studied at Central Saint Martins (London), Edinburgh College of Art (University of Edinburgh) and has just finished her Masters at the Ruskin School of Art (University of Oxford). She was shortlisted for the Astaire Prize (2019 and 2020), was the 2020 recipient of the RSA John Kinross Scholarship, and was selected as part of Bloomberg New  Contemporaries (2021) and RSA New Contemporaries (2022). Her work has been shown at exhibitions in New York, London, Edinburgh, Chengdu and Hong Kong. Her latest exhibition, In the Margins, opened at Commonage Projects (London) in April 2022. 
FRONTRUNNER spoke with Lim about her approach to making these delicate pieces, cultural identity, study in different places, and the joy of art.
What's your typical day like?
I usually go for a run in the morning, then I'll come into the studio, and spend the whole day working there, whether in the workshops downstairs, or at my desk replying to emails. After that I go home, have dinner and go to sleep, then wake up and repeat. My daily routine varies often depending on if I'm installing, delivering work or making but my days spent in the studio are usually quite like this.
What are the three things that you feel like you can't live without in your studio?
The materials I use day to day to make my work are probably the most important – paint, plywood, clay and jesmonite (a type of casting plaster). The books I keep in my studio are also pretty essential, I'm often referencing a lot of imagery from different books, that I've collected over time, whilst I'm making.
The colour palette is so beautiful, how did you choose the colour when you make a work?
I have a more spontaneous approach to colour. I don't tend to pre plan the colour of my works too much. I see a lot of the works that I make as being part of larger installation. So I sort of base my colour choices on the colours of the sculptures I already have. If I think I have too many sculptures that are purple or green, then I'll bring more red, and blue in to my next sculptures for example. Also I pick colours based on the shape of the particular work. If It looks like a certain creature or a particular thing then I like choosing a colour based on that.
And what kind of materials did you use to create these delicate pieces?
For the smaller pieces, I work with this type of clay called "polymer clay". As a teenager I'd used it to sculpt little charms and figurines, you can get a lot of detail with this type of clay, the vibrancy of the colours is also really important. As my snuff bottles have gotten larger I have tended to cast the base of the structure in this material called Jesmonite – similar to plaster but stronger. With the large pieces, either I cut them by hand, on a laser cutter, or on a CNC machine. Generally the best material for that process is plywood, MDF or acrylic. 
Based on the self-introduction on your website, you attempt to "re-imagine and reclaim ideas and designs associated with the Chinoiserie." It sounds quite abstract, what's the specific process to achieve that?
Chinoiserie was an 18th century design trend where European designers appropriated Chinese designs, objects and art for the European market. A lot of pieces created in this style were an interesting blend of both European design and Chinese design. I was particularly intrigued by this design style because it reflected something of my own cultural identity. Whilst I was fascinated by the Chinoiserie I was also aware of its colonial history. I wanted to reimagine it in my own way. Within my work, I have been trying to create objects/sculptures that sit between these two cultures and do so in a kind of playful way. I use this process of creating work also as a way of understanding my heritage, identity and experiences.
How do you feel about your cultural identity now after years of making art exploring your heritage?
I've been exploring my heritage and cultural identity within my work for the last four or five years. It's really enabled me to reconnect with parts of my Chinese-Singaporean heritage. I grew up in the UK and so I hadn't had as many chances to really engage with my 'Chinese side'. Through my work I've also been thinking a lot more about mixed identities, what it means to be mixed and the experiences of navigating yourself between two cultures. I've also been able to connect with a lot of people that share a similar cultural identity/experiences to myself.
What did you do during that period of time in Edinburgh when feeling you are bit "different"?
I made work and thought about how I could represent my ideas about my cultural identity in a visual way. I also had a couple of friends in Edinburgh, who shared a similar heritage to myself, so I'd quite often have conversations with them about our experiences and ideas.
Do you always have quite specific ideas about the work you are gonna make before create?
Sometimes, I have quite a specific idea of what I want to create and at other times I have a very rough idea to begin with and as I'm making the piece, it evolves significantly. I often refer to different books whilst I'm creating my sculptures – from furniture design to mythology- I might focus on a specific narrative, motif or functional object for a work. 
I really like some of your works they have their own arms and legs.
I'm quite interested in the snuff bottle having arms, feet and legs. They're almost  anthropomorphised by these features, in doing so they're not just ornaments or static objects, but they seem to have a life of their own.
Have you ever been in a situation of lacking of inspiration?
At the moment, I feel quite inspired. I haven't had a situation yet where I'm really lacking ideas for new works but making new things all the time can be exhausting, wanting to create something that's visually exciting but also thoughtful and engaging is hard work.
Which piece is your favourite?
I don't really have a favourite work, I've made a lot of stuff over the years so I think it would be hard to narrow it down to one. How I view my work is constantly changing also. 
You are sort of nearing the end of your master's study in Oxford, what's your feelings about graduation?
I'm excited to graduate and be back in London. I have a few exciting projects planned for the Autumn, so I have lots to work on over the summer. Alongside the other projects I'm also going to be doing a residency for a year, which I'm really looking forward to. I'll definitely miss having a workshop so close to my studio, having access to these spaces is one of the big benefits of being at an art school.